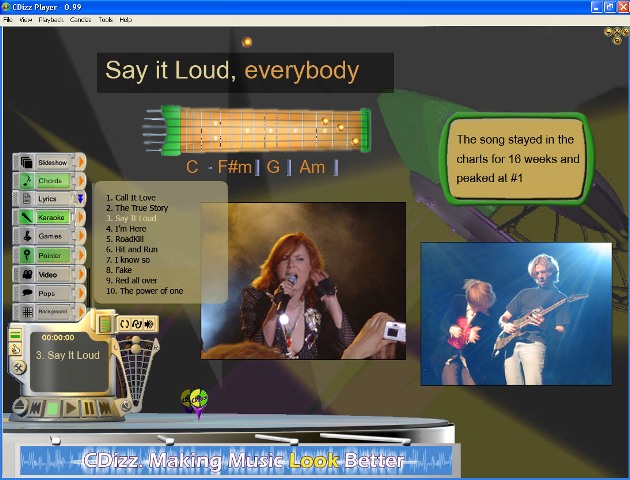 Click to enlarge
Description:
CDizz is an innovative, free media player that upgrades any music file or CD into a rich multimedia experience.
Using music identification, the player displays designated dynamic online content.
Lyrics, Images, Flash Animations, Animated chords, Karaoke, Video Clips and more, including user contributions.
By getting both official and user-generated content, users actually connects to a social network based on their taste in music.
Within this Musical Network you can:
Create a personal profile page with a list of your music collection.
Upload your own contributions and share them with other people in your network.
Receive CDizz Pointzz for every upload.
Rate items and more...
CDizz Player Key features include:
Innovative Media Player with streamlined design.
CD recognition
MP3 ID3 Tag Support
Song Lyrics
Animated Karaoke
Animated Graphical Chords
Images & Slideshows
Trivia Pops - Synchronized with song
Smart Intro - plays user-selected track samples
News, reviews etc.
Flash animations, games and applications
CD Credits
Skin can change for every track
Users can publish and share their creations
Voting and Rating system
A personal profile page including music collection items
Mini player mode