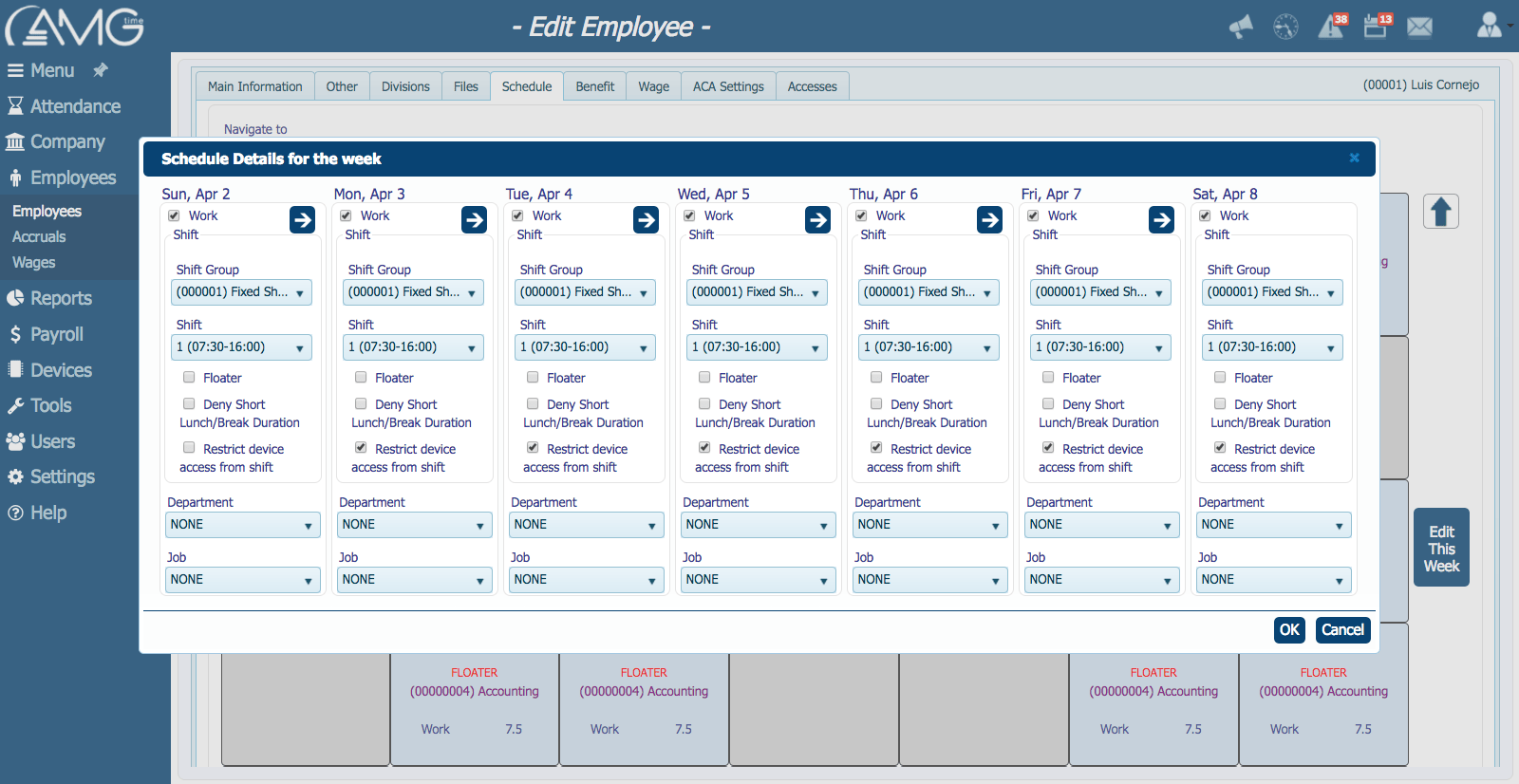 Click to enlarge
Description:
AMGtime Systems is a comprehensive time and attendance program that allows unlimited configuration of shifts, pay policies, organizational structure to provide timecard data from basic time and attendance to extra features such as benefits and miscellaneous entries. We pride ourselves on making it easy for managers to track each employee at any given time through the status board, to catch missing punches through one easy screen and to assign levels of access on a highly detailed level. We provide multiple data capture solutions from fingerprint to face recognition readers, Schlage handpunches, mobile apps for both iOS and Android devices. All this in a scalable product to meet the needs of small to multi-location businesses.
As a manager you have choices on how to track overtime, how to configure the rounding rules, how to customize numerous attendance reports, and much more. Furthermore, AMGtime systems are integrated with 90+ payroll providers, so payroll managers can easily export the information from our systems and import into payroll. No more manual transfer of information.
Depending on the size of your company, you may need to set up multiple time clock to speed up the process of employees clocking in/out, we offer various types of discounts. Please ask questions, we are here to assist you every step of the way.
Keep in mind, that our software:
Has a user-friendly configuration wizard which navigates the users through the process of configuration setup, by giving step-by-step instructions and showing the right order of configuring system's settings.
Has a database backup, restore and optimization tools.
Enables auto execution of some processes such as Running File, Running and sending Reports by e-mail, Polling Devices, and Database Backup.
Can be set up with MS SQL, giving you direct access to the database.
Has open API for seamless integration.
To top it all, our time and attendance systems pay for themselves within six to nine months.