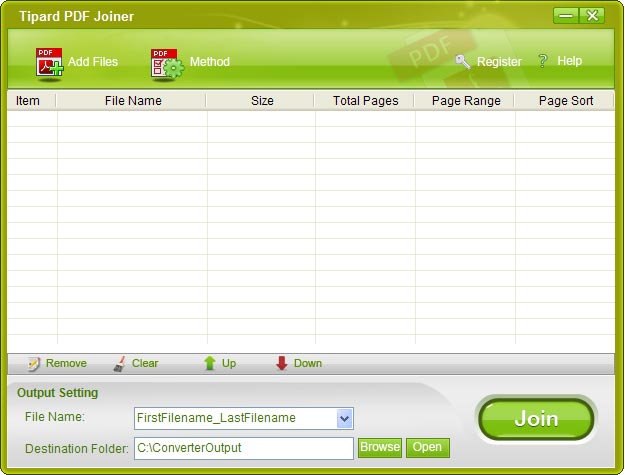 Click to enlarge
Description:
Tipard PDF Joiner is the most professional PDF Merger to help you merge several PDF files into one. This PDF Merger provides you with an intuitive interface to make the operation quite easy. And there are more than one merging methods for you to select. You can select the page range and page sort. Moreover, this PDF Joiner can merge all files alternately. Then you can handle the output PDF file more conveniently.
key functions
1.Merge PDF files into one
Tipard PDF Joiner offers you powerful merging function to merge several PDF files into one with perfect output quality.
2.Select page range
This PDF Merger enables you to select all, odd, even and part pages of PDF files to be merged.
3.Select page sort
You are able to merge PDF files in sequence or in reverse order by choosing the appropriate option.
4.Merge PDF alternately
This powerful PDF Merger enables you to merge all PDF files alternately with the selected page sort and page range. You can define the PDF Joiner to mix pages by every n page(s).
5.Easy to use
The user-friendly interface of this PDF Joiner can make the operation so easy that even beginners can finish the operation with few clicks.
6.Support multiple languages
This PDF Merger supports English, Turkish, Thai, Latin, Korean, Greek, Cyrillic, Arabic, Japanese, Chinese, etc.
7.Super high speed
The special-designed PDF Joiner can help you finish the operation with least time.