[
Homepage
] - by:
Software Studio Ltd
-
Download links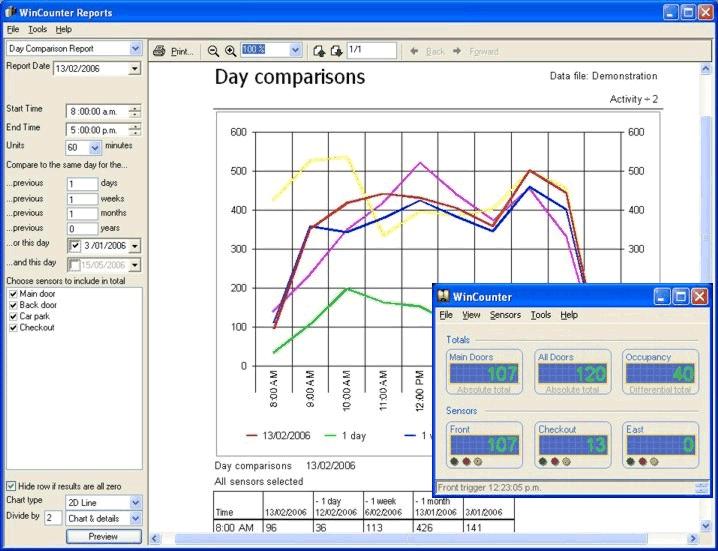 Click to enlarge
Description:
WinCounter is people counting software - the ultimate counting machine. The most common use for WinCounter is to count people as they enter or leave a doorway, but it can be used to count all sorts of different things. It will alert you when people arrive, show you the totals on-screen and store away a record of the time and date that the person arrived or left your premises. You can use the built-in report generator to view or print reports with graphs that analyze the history of visitor trends to your business or site.
The history and trends of visitors to your premises is vital business information that can be used for all sorts of things. Here are a few possible uses:
- Retail business can calculate conversion rates, set sales figures, staff levels, stock positioning etc.
- A bar or club can configure the display to show the total people in your building at one time. This helps you comply with maximum occupancy regulations, with the added advantage of recording the times and dates that are the most popular.
- Museums and galleries can find the exhibits that are the most popular.
- Show house owners can analyze visitor trends.
By switching on the sound feature you can have WinCounter act as an entry alarm that plays a sound as people enter your premises. You can even have some fun and configure it to play many different sounds and themes. Gone are the days of the same old irritating sound from your doorbell.
If you have a computer in your business, why not take advantage of that computing power? Install WinCounter and use it as the ultimate doorway monitor.
WinCounter requires sensors or switches to monitor your doorway or count events. It will work with a wide range of sensors or switches connected via a cable or through a wireless link. See the WinCounter Website www.wincounter.com for more information and a free trial download of the software.
Recent changes in this Minor Update:

Comments
(
Add comment
)
<!Comments><!Comments>