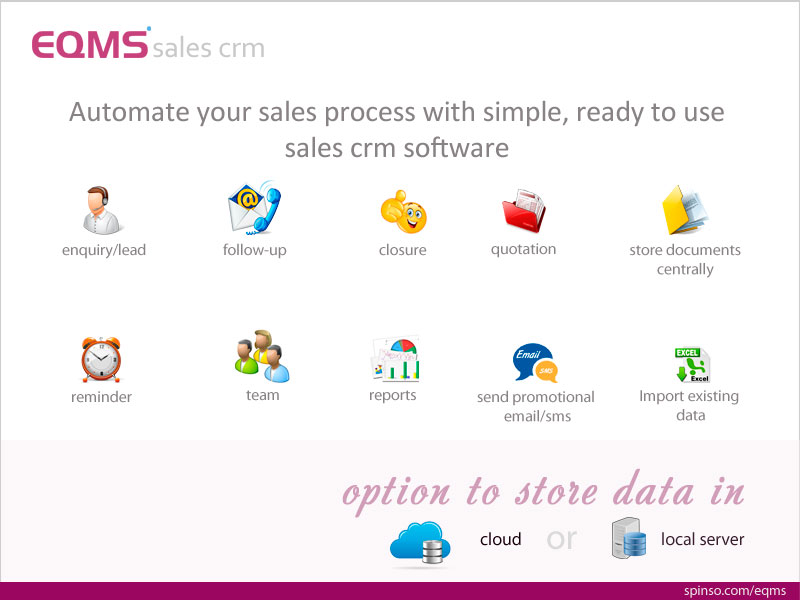 Click to enlarge
Description:
EQMS is a simple Ready to use CRM to automate and streamline your sales.
EQMS offers both options, either to host data on Cloud or in your private network
Some of the features of EQMS CRM are as follows
Track Enquiry/Lead
You may receive enquiries from various sources such as Newspaper Advertisement, Internet Advertisement, Cold Call etc.
Proper Management of this lead information enables you to analyze and track the product, or source that generate more leads/enquiries.
It also helps you to store the customer contact details in an organized way, so that it is easily available whenever needed.
Track Lead/Enquiry Follow-ups
Most of the deals are lost to competitors due to less follow-up or over follow-ups.
Proper management of follow-up information prevents leads, from going cold.
EQMS enables you to record the complete details of follow-up such as mode of follow-up if it is phone, email or a personal visit and so on, date and time of follow-up, brief about the communication done and the next follow-up details.
It also lets you set reminders for critical follow-ups
It also provides you the entire history of lead follow-up in a single glance.
Track Closures
After series of follow-up the lead is moved to the final stage that is closure.
Managing closure details enables you monitor and track the overall sales performance.
In EQMS you can track the status of lead/enquiry i.e. booked, lost or cancelled along with the status reason for winning or losing the deal.
Other features includes
Quotation
Effective team management
Direct marketing with SMS / Email
Attach documents exchanged with prospects/customers
Reports, MIS, Dashboard
Easy Migration of existing Data
Anywhere Access
And more
Installation is quiet simple.
It does not require any registration
Download, Install and Get Started