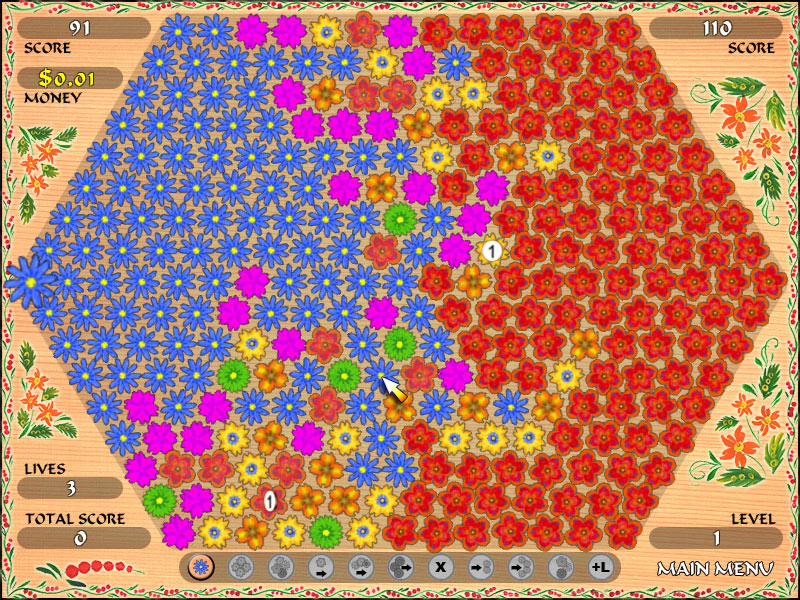 Click to enlarge
Description:
Filler - an exciting puzzle game.
Filler is an exciting puzzle game for whole family or personal fun. This game is splendid antistress and antidepressant game. You can use it as development and very interesting game for your children. 100 layouts of the field and 100 levels in advanced game, 100 levels in classic game, 11 special bonuses, graphic designed by masters of Russian Khokhloma painting - this is the short list of game features.
Game rules of this puzzle are extremely simple. Your objective is to occupy the half or the majority of the flowers on the field. You always start a game from the left side. Computer always starts from the right one. You always make the first move.
filler puzzle game download filler puzzle game download filler puzzle game download
Filler has two modes of the game : classic puzzle and advanced puzzle. In advanced puzzle mode you will see black flowers that you can't seize. These flowers make this mode very puzzling.
To enlarge the size of your zone you should seize adjoining flowers. Just click on the flower of different color, bordering to your zone, and all the flowers of given color turn into yours.
Computer player does not always move the same. Sometimes he plays poorly, but sometimes you will need to do your best to win.
Try to seize the flowers with coins. It will let you buy bonuses, which help you in the game.
Full version benefits / advantages
* Unlimited gameplay time
* 100 layouts of the field and 100 levels in advanced game
* 100 levels in classic game
* 11 special bonuses
* development and interesting game for your children
* graphic designed by masters of Russian Khokhloma painting
* splendid antistress and antidepressant game
* free support via e-mail
* free update to new versions