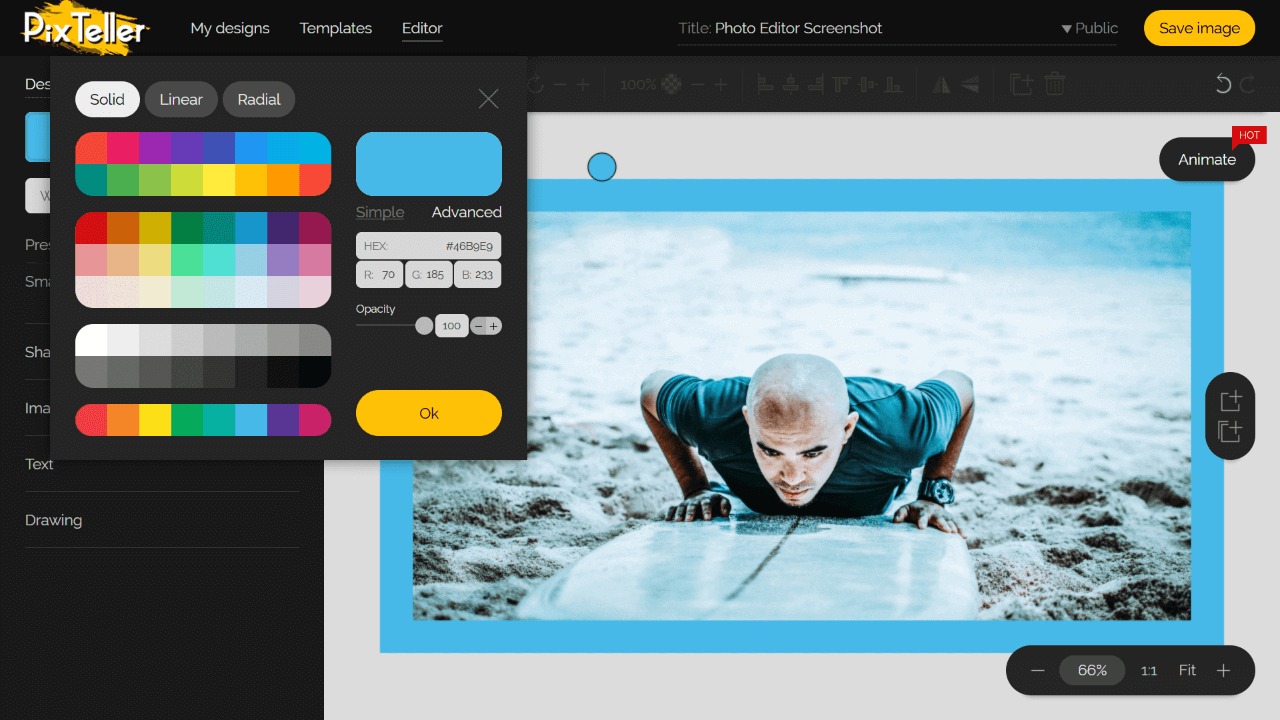 Click to enlarge
Description:
Free Online Photo Editor & Animation Maker
Easy-to-Use Design & Animation Tool to Make: Social Media Graphics, Posters, Banners, Flyers, Covers & Headers, Logos, Presentations, Invitations, Animated Posts, Photo Collages, Desktop Wallpapers, GIFs & more...
Bring life to your idea and use templates to turn words, photos and illustrations into amazing images and animations in minutes. Create, download, share - anytime, anywhere and blow your readers away.
------------------------
[1] Professional Made Layouts
You can pick and "USE" any editable graphic or animated post template that fits your needs. Customize them to perfectly fit your visual preferences.
[2] 1,500,000+ Photos & Illustrations
Choose from a great variety of beautiful, free pictures and illustrations, and add them on your design canvas. You can also upload your own photos.
[3] 100,000+ Shapes
Search for the best custom shape that perfectly fits for your graphics, directly from PixTeller Editor.
[4] Gradient Colors
Select between solid, linear or radial gradients, and get an outstanding look for your designs! You can even make transparent backgrounds.
[5] Frame by Frame Timeline
Create custom, frame by frame tailored animations using the PixTeller Editor timeline. Any video motion is automatically created between two instances.
------------------------
Create stunning Images, Graphics & Videos
At PixTeller, we know a better way you can make your own Images, Graphics & Videos, and its faster, easier, and not-at-all complicated.
Choose from Hundreds of free design templates, professionally crafted, easy to use and customize with the help of our photo editor and animation tool.
Join our witty, resourceful and cool community of more than 100.000 individuals. They already design with our Photo & Animation Maker Tool, growing their businesses stronger than before.