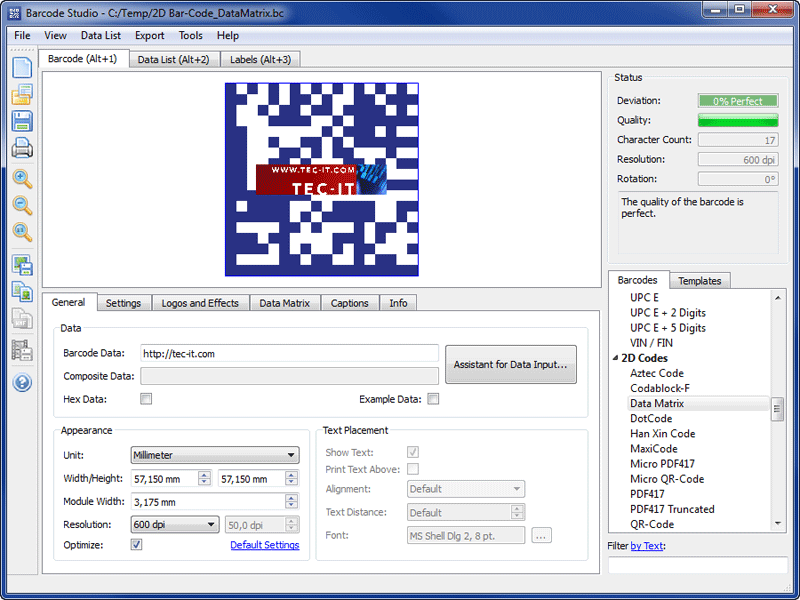 Click to enlarge
Description:
BARCODE MAKER / BARCODE CREATOR
With Barcode Studio you generate high-quality barcode images (also for 2D codes like QR Code or DataMatrix) ideally suited for pre-press requirements, desktop publishing applications, print-shops and artwork studios. Barcode Studio is featuring simple barcode label printing functionality.
OUTPUT FORMAT
Barcode Studio exports barcode images as BMP, PNG, GIF, JPG and TIFF. In addition the barcode maker creates vector EPS & PDF output.
BARCODE QUALITY
Barcode Studio guarantees perfect barcode quality. The expected barcode quality is computed & displayed during the barcode design.
BARCODE SUPPORT
More than 100 different barcode symbologies are supported. The product creates linear as well as 2D barcodes, stacked codes & composite barcodes (GS1 DataBar etc.).
READY-TO-USE TEMPLATES
Pre-defined templates for compliance bar-coding (Deutsche Post Premiumadress, EAN, UPC) are included.
SPECIAL FEATURES
Barcode Studio offers many convenient features, just to name a few: data import, serial number generator, input assistant with URL shortening (goo.gl, bitly) and SPARQCode support, barcodes with embedded logo, etc.
HIGHLIGHTS
+ No Barcode Fonts are required
+ Supported Barcodes: PDF417, MicroPDF, DataMatrix (ECC200), MaxiCode, QR-Code, Codablock, RSS, GS1 DataBar, Aztec, Code39, HIBC Codes, EAN, UPC, Code128, Han Xin, DotCode, GS1 GCN ...
+ Data Import: Create bar code series with external data (txt/CSV)
+ Advanced Design: Embed logos or graphics, change the drawing mode
+ Output Format: Direct printing, raster and vector image export, PostScript, PCL, EPS
+ Barcode quality is constantly computed
+ Data Input Assistant simplifies the creation of barcodes for mobile tagging like events, Twitter tweets, Facebook likes, vCard/meCard business cards ...
+ Label Printing: Choose from pre-defined templates or define custom labels
+ Areas of Application: Pre-Press, Desktop Publishing, Barcode Testing, Coupons, Vouchers