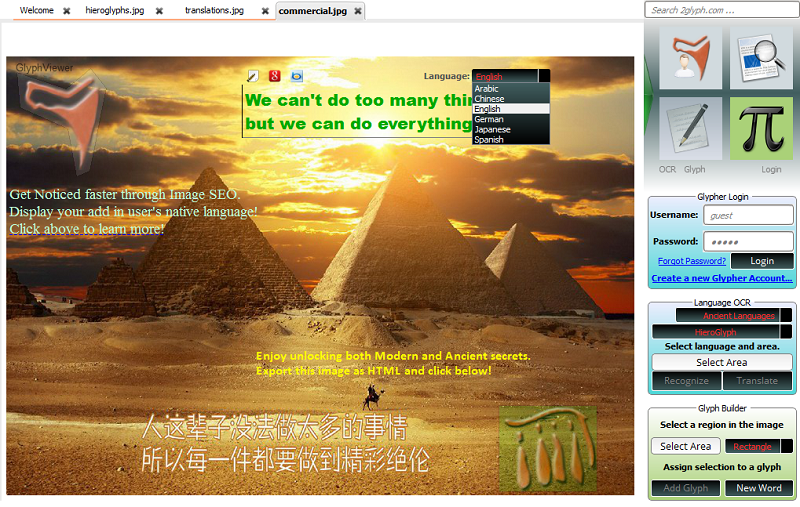 Click to enlarge
Description:
GlyphViewer allows users to recognize, translate and export the desired image content, thus breaking online language barriers found in content that cannot be easily translated with today's online tools.
GlyphViewer allows non-technical persons to build complex internationalized advertise slogans starting from campaign's images.
Serve native language slogans to people, link regions in your image to where users need to be directed.
Thus users will fully understand what your campaign is about without any additional requirement about language knowledge.
Ever felt frustrated by not understanding a text in an image?
Imagine browsing online on news sites or portals and while reading the text content on a page an image strikes the attention, having Chinese text in it.
To most European people they are actually hieroglyphs and, while a picture can be worth a thousand words, one cannot fully comprehend the message in the image, which can actually hold wonderful secrets.
GlyphViewer can help site owners to translate and export the text in the images to provide a native language content to their users and allow search engines to associate the image with that content.
Have you ever been to Egypt and want to unlock the secrets of Ancient Egyptian Hieroglyphs?
If you've ever been present in a temple at Luxor or Karnak the first thing that you noticed, apart from the actual size of the complex which overwhelms, is the amount of hieroglyphs on the walls, cartouches and so on.
Any decent tourist starts taking picture after picture, but at one point one just wants to know what the hieroglyphs actually mean.
This is what GlyphViewer can do, recognize and translate those hieroglyphs. To a certain degree GlyphViewer is a modern version of the Rosetta Stone, as it does the same thing the stone slab did for unlocking Hieroglyphs. The difference is that now the stone is a piece of software that is built with the help of GlyphViewer application to be shared online.