[
Homepage
] - by:
ActiveXperts Software
-
Download links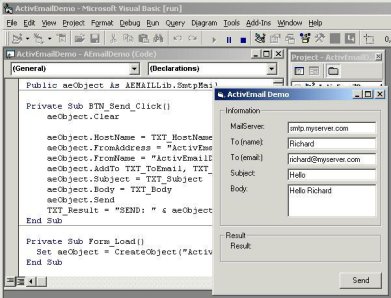 Click to enlarge
Description:
ActiveEmail provides an easy-to-use programming interface to SMTP E-mail and NNTP news communications. Use it to send messages automatically, or in batches, from applications, web servers, or from the command-line.
Use this ActiveX component inside your ASP, ASP.NET, Visual Basic, Visual Basic .NET, Visual C++, Visual C# .NET or VBScript application/tool.
ActiveEmail features multiple recipients, embedded attachments, Rich Text Formatting (HTML), SMTP server authentication, RFC 822 message protocol, RFC 1521 and RFC 1522 MIME protocol, NNTP news group posting, and more. Samples for all platforms and development tools are provided. To improve performance, outgoing mails can be queued instead of send directly, and processed in the background the ActiveEmail Queue service (with no extra costs). ActiveEmail can be used on Windows 95/98, Windows NT, Windows 2000, Windows XP and Windows .NET platforms.
Rated 5 Stars at AdminFavorites.com; see also http://www.adminfavorites.com
Check out http://www.activexperts.com/activemail to view online samples.
Recent changes in this New Release:

Comments
(
Add comment
)
<!Comments><!Comments>