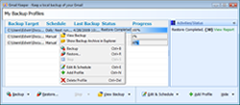 Click to enlarge
Description:
Gmail Keeper is a email backup software specifically developed for Gmail and Google Apps users.
Some of the unique features:
1) Backup & restore all folders including Inbox, Sent Mail, All Mail, Starred & Drafts.
2) Backup & restore not only emails but also labels associated with each email.
3) Schedule to run backup automatically on a daily, weekly or monthly basis. A big timesaver!
4) Move/transfer emails & labels between any Gmail or Apps accounts
5) Your can open backup archives with Outlook Express, Outlook, Thunderbird, etc.
6) With Gmail Keeper you can backup as many Gmail accounts as you wish.
7) High encryption is applied to protect the backup data and Internet connection to Gmail server.
8) Easy to use, lightweight and fast.