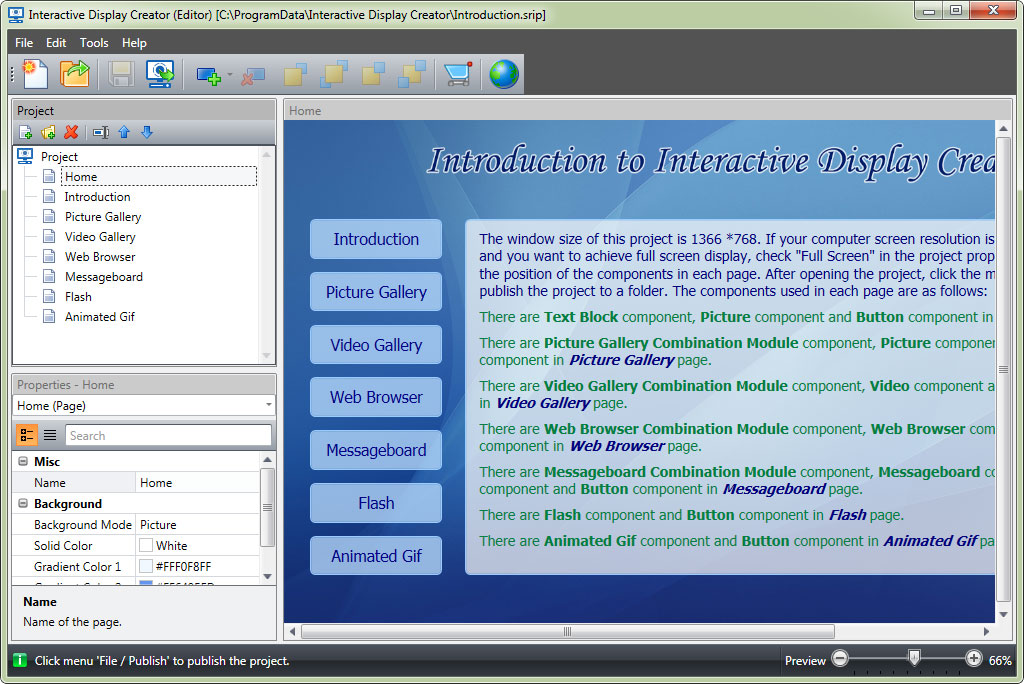 Click to enlarge
Description:
Interactive Display Creator is an interactive multimedia display software suitable for schools, exhibition halls, banks, hospitals and other public areas. This software can be used to create rich multimedia interactive display system without professional computer knowledge.
Picture, video, web browser, rich text, messageboard, Flash, animated gif can be added to the display page. Users can navigate between pages by clicking the button which links to a page. Using the combination module provided by the software, you can quickly set up a page that can browse the picture gallery, browse the video gallery, browse the web pages, or handwrite messages.
Features:
*The Player program comes with a royalty-free distribution license (Editor license is required).
*Add pictures and videos to the display page.
*Add Flashes and animated gifs to the display page.
*Add rich text format (.rtf) documents to the display page.
*Add web browser to the display page.
*Support to browse picture gallery.
*Support to browse video gallery.
*Support to handwrite messages, message pictures can be sent to preset E-mail addresses or uploaded to FTP server.
*Customize the position and size of the display window.
*Open screen keyboard.
*Support automatic shutdown.
*Support idle page.
*Support to display the published project on other computers.