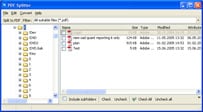 Click to enlarge
Description:
Easily split PDF files by page. This new, handy program helps you solve the problem
of splitting different pages of one multi-page PDF file. PDFSplitter is easy-to-use and has a
transparent interface. Just set it up and go!
PDFSplitter includes two different ways of dealing with PDF files: you can either
use the command line, or you can simply select the folder where you have your PDF files and
the folder where you want to place the separate PDF files and press the "Split" button.
PDFSplitter will do the rest for you!