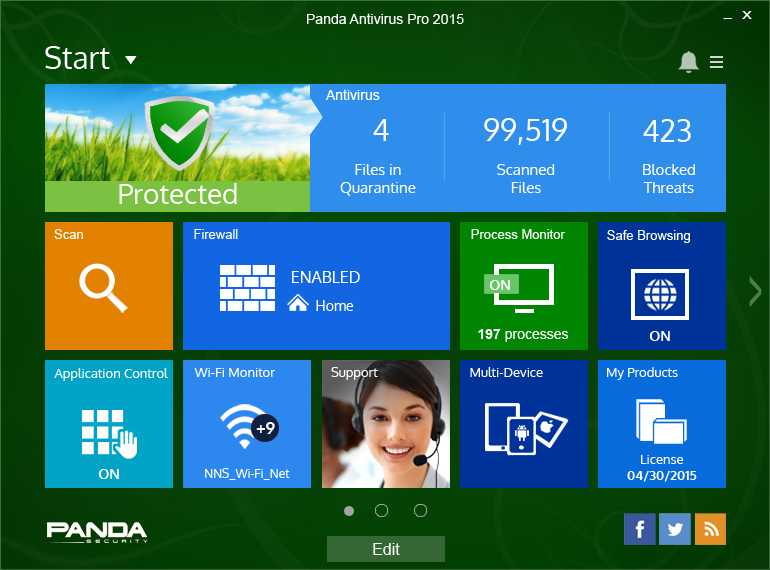 Click to enlarge
Description:
The new Panda Antivirus Pro 2015 provides the easiest-to-use and most intuitive protection for your computer. Install it and forget about viruses, spyware, rootkits, hackers and online fraud.
- Essential protection against spyware, phishing (online fraud), rootkits (stealth techniques) and banker Trojans.
- Real-time protection.
- New Web filter for safe Web browsing.
- Complete protection against known and unknown viruses.
- Vaccinate your USB flash drives against infections.
- Firewall to stop intruders and hackers. Block unauthorized access to your PC while permitting legitimate communications to pass.
- The Wi-Fi monitor shows a list of all the devices currently connected to your network, helping you find out if there is an intruder on your Wi-Fi.
Chat, share photos and videos, shop online, read your favorite blogs or simply surf the Web with complete peace of mind and without interruptions. Thanks to its new real-time protection technology, the new Panda Antivirus Pro 2015 is safer, faster and more complete than ever before.
Start your computer in safe mode and disinfect it in emergency or critical situations. Share this recovery tool and help others clean their computers.
Panda Security's Cloud Technology provides a new protection model based on a user community where everyone contributes. Your computer will always be up-to-date and protected. Additionally, your PC won't restrict the detection power as Panda's huge virus detection database is located on the Internet (the cloud).
Enjoy a new, more modern and intuitive user experience in line with that of the latest operating systems and platforms. You don't have to be an expert to use it. Panda Antivirus Pro 2015 does