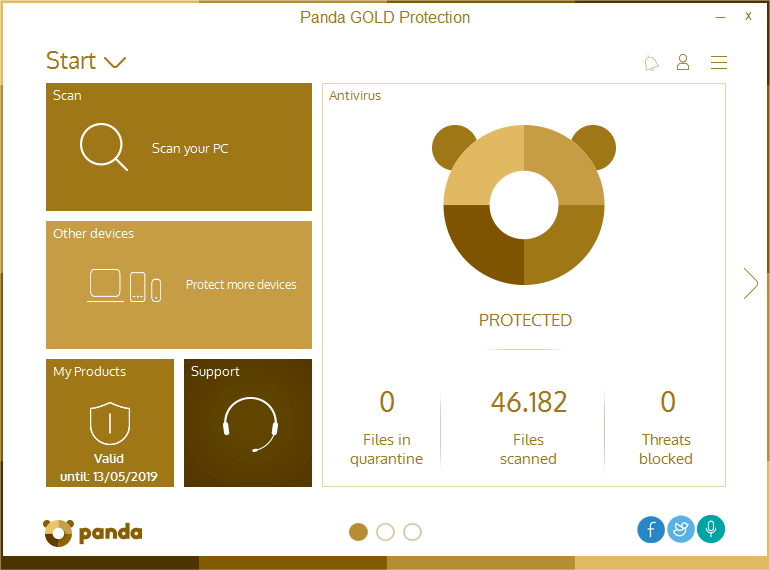 Click to enlarge
Description:
Panda Gold Protection is designed to ensure you enjoy your online life with complete peace of mind. It provides maximum antivirus protection for all your devices: Android smartphones and tablets, PC, Mac and iOS. The new Panda Gold Protection protects your data regardless of the device or operating system.
Keep your private data secure with file encryption
Manage your passwords
Protect your family with parental controls
Optimize your devices
Premium service tailored to your needs
Browse the Web, check your email, shop or bank online, connect to social networkswith complete peace of mind. Panda Gold Protection protects your online life.
Panda Gold Protection offers a system for storing, synchronizing and sharing your photos, videos and documents online across different types of devices: PC, Mac, iOS, Android and BlackBerry. Storing, syncing and sharing your online life has never been so easy (20 GB of space).
With Panda Gold Protection you will enjoy the best advice from IT security experts. Plus, in the event of a need infection, a Panda technician will connect to your computer and ensure the system is clean.and solve every kind of technical problems, optimize your security devices and configure your network. Panda's best for you.
Panda Gold Protection provides Mac users with complete protection against viruses and other Internet threats. Mac users are vulnerable to infections just like PC users, and with the globalization of the Internet, nobody is safe from malware threats... Panda Gold Protection scans for malware even in the latest Mac, iPad, iPhone and iPod touch devices.
PROTECTING AND SIMPLIFYING YOUR LIFE
Shop and browse online safely.
Keep your family safe from inappropriate Web content.
Protect your data, money, and identity from cyber-criminals.
Optimize and keep all your devices under control.
Protect yourself anytime, anywhere.
Store, share and sync your memories.