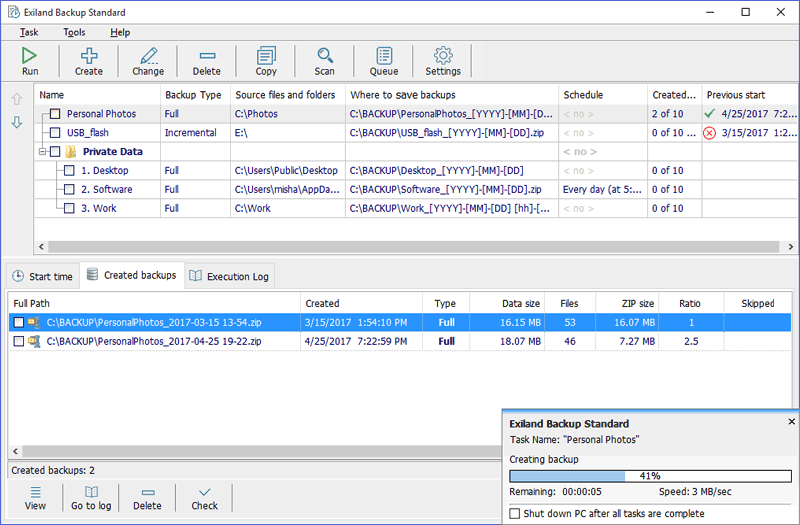 Click to enlarge
Description:
Exiland Backup Standard is a powerful yet easy-to-use software for backing up your important files. It lets you easily copy your important files automatically to various locations: network or local disks, remote FTP, SSH servers, NAS or other removable media (such as USB flash drives or external HDD). The program can also duplicate your backups to different places. It is perfectly suited for backing up the home or office files. Problems with long paths and unicode are solved. Exiland Backup does not block source files during backup operation . There is a free version of the program.
Exiland Backup Standard has the following main features:
MAIN FEATURES:
- Creating backups automatically (using built-in scheduler) or manually
- Four backup types: full backup, differential backup, incremental backup and synchronization files
- Powerful file filters (attributes, masks, excluded subfolders, etc.)
- Flexible scheduler. Ability to run tasks on PC start/shutdown, on connect USB device or run tasks from Windows command line
- Backup of any data: local or network files and folders, FTP, SFTP data
- Synchronization of folders
- Backup to any locations: local/network drives, shared folders, removable disks, FTP, SSH servers, etc.
- Sending a backup via e-mail as attachment
- Standard ZIP compression to save your disk space
- Encryption, password protection to keep your files private. AES encryption supported (256-bit key strengths)
- Support for Zip64 technology. This allows the creation of zip files larger than 4 GB
- Splitting large ZIP archive into multiple volumes
- Automatically delete the oldest backups
- Run third-party programs or commands before/after the execution of a backup task
- Restore the lost files to the specified folder or to their source location
- Logging of all backup operations
- Indication of backup process in System Tray
- Three notification types (e-mail, Net Send, screen) after a backup with a success/error/warning message