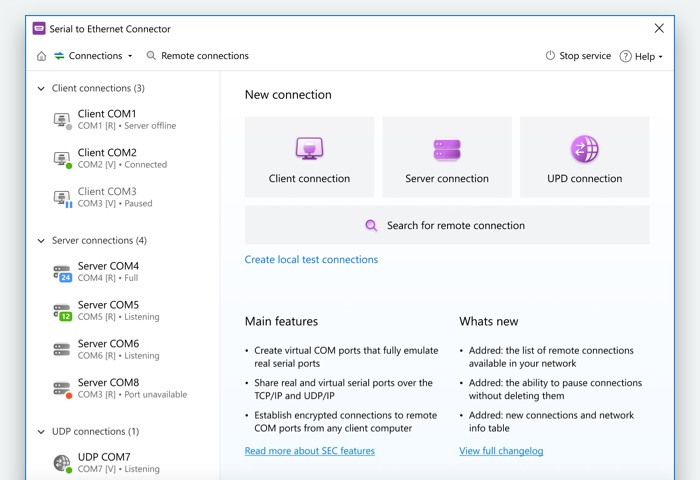 Click to enlarge
Description:
Share up to 255 peripheral devices remotely with serial over Ethernet technology. Serial to Ethernet Connector is a COM over Ethernet utility that turns your computer into a flexible terminal server. Network-connected users located anywhere in the world can interact with serial devices as if they had a direct local connection to the equipment.
The software creates virtual serial ports that are treated like physical interfaces by the Windows operating system. Virtual serial ports extend the functionality of your computer by providing additional connectivity options. Use serial devices even on computers that do not have any physical COM ports.
Virtual COM ports created by the application fully emulate physical serial interfaces and can be used in the same way with applications or devices. Serial to Ethernet Connector forwards data transmitted through your system's real or virtual serial ports over a TCP/IP network such as a LAN, WAN, VPN or the Internet. This ability lets you share valuable serial peripheral devices with remote users across the office or in another country. The only requirement is that the users have access to the same IP network.
A new and more intuitive user interface has been included in the app since version 7.0. This makes it simple to share your serial interface for incoming connections. You can also share ports using UDP connections or attach a port to a remote host.
Serial to Ethernet Connector is a great way to increase the value of your organization's serial peripheral devices. Rather than swapping cables or purchasing duplicate equipment, all devices can be shared with any network-connected machine.
Once a port is shared, devices can be unplugged and reconnected without restarting the application. The application's virtual ports let you interact with many more devices simultaneously than could be accomplished with a computer's physical ports or a hardware hub. Make the most of your serial devices with Serial to Ethernet Connector.