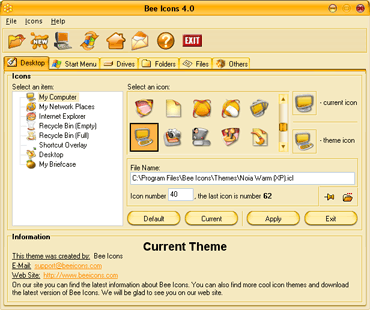 Click to enlarge
Description:
Since picture is worth a thousand words, visit www.BeeIcons.com before reading this description. Bee Icons 4.0.2 offers more than 200 pizzazz artistic images to replace your boring Windows system icons. You can spice up Desktop, Start menu, Drives, Folders, Files and other icon types. It takes only one minute and a couple of mouse clicks! No advanced knowledge of PC is required!
In addition to 200+ icons that come with the program, there are more than 50 best icon themes
(http://www.beeicons.com/themes.php) available for FREE download. Skeptic about their diversity? Christmas, Candy, Pink PC, Industrial, XP Folders, Gadgets, Retro, Black and White,
Gooey Green, Robotic, Fruits and Veggies - these are just a few of themes available. Hey, you can have a small revolt against Bill Gates and make your PC desktop look identical to Mac OS!
You can really jazz up your PC with Bee Icons!
The great thing about Bee Icons is that it is compatible with AWIcons, one of the best icon editing tools from Lokas Software.
Want to know what people say about Bee Icons?
I enjoy using Bee Icons. I use my PC almost exclusively for business. The ability to personalize my desktop and other screens provides some relief from my more serious work! The ready availability of new icon sets is an excellent feature, which gives me access to whatever suits my mood.
Brian Stagg,
Grantham, United Kingdom
I am very fussy about the appearance of my PC desktop. I have used a few different icon changers and I must say that yours is the simplest and most compatible I've ever used. I love the ease of Bee Icons and the ability to change a single icon if you want.
Bub Preece,
Inez, KY