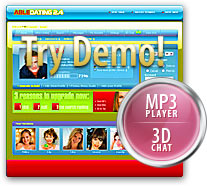 Click to enlarge
Description:
The only dating and community script in the world with AJAX, 3D Chat, and
FLASH games! Powerful, fast and stable PHP/MySQL-based open-source dating community software with protection against nulled versions usage. Low running costs and stable income. Community script to make your online dating business successful. Protection against nulled and cracked
AbleDating warez dezended versions with IP manual checking. Nulled AbleDating will not allow video or audio chats, etc. You will use only
licensed, not nulled version of AbleDating with lifetime upgrades!
Video Chat, VoIP Phone, Flash Chat, Flash Games, 3D Chat, Greeting Recording, Hot-or-Not, Forum, Blogs, Gallery, Video Gallery, Friends, and
100s of other superb features! Video Chat, VOIP Phone, Flash Chat, Flash Games, Greeting Recording, Video Gallery - these features are not working
in AbleDating nulled (dezended) versions. All nulled AbleDating versions are tracked by our Flash Media Servers, dezending does not help.
You will not have to buy a video chat separately which is about $250 a month. Moreover, you will not have to buy Flash Server hosting, which is
about $100-$150 a month. You will not have to buy Adobe Media Server for your hosting, which costs $6000. You will just have a video chat on your dating site. (Nulled AbleDating lacks this feature). Your users will be able to speak with each other using headsets or USB phones. You do not have to buy a flash server or anything. The sound is much clearer than in ordinary phone conversation. No VoIP phone in nulled versions of
AbleDating. The members will be able to play nicely drawn and programmed Flash games! All Flash games in all licensed not AbleDating nulled versions are unique, they are made by our artists and programmers. The games are for two people, for example John is in the USA and Maria is in Russia. And they play Love Tree.