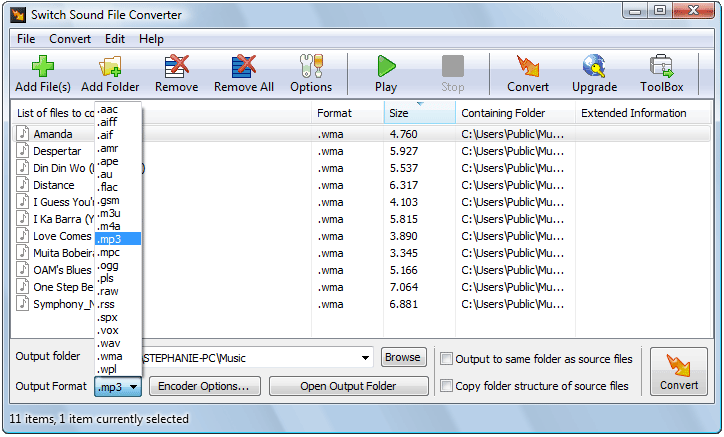 Click to enlarge
Description:
Switch Plus is a professional audio file converter for Windows. It can convert mp3, wav or wma format and more to the format of your choice. Switch Plus audio file converter is very easy to use. Just add the files you want to convert to the list, select the format you want to use, and then click the convert button.
Switch Plus Features:
* Simple and intuitive interface.
* Converts a variety of different audio file formats (including WMA, AU, GSM and DSS formats) into MP3 or WAV format.
* Automatically normalise audio while converting
* Ability to play tracks prior to conversion.
* Import and convert a playlist (m3u and pls).
* MP3 encoder supports constant or variable bit rates from 8 to 320kbps with optional error correction and stereo modes.
* WAV encoder supports sample rates between 6000 and 196000Hz in PCM as well as a number of other audio codecs.
* Allows up to 32000 files to be converted in one batch.
* Can be run from the command line for automation with other applications.
* Optimized CPU usage and efficient code allows for fastest conversion times.
About NCH Software:
NCH Software is a leader in audio, video, telephony, dictation, business, and computer utility software for Windows, Palm, Pocket PC and Mac OS X. NCH Software has released over 80 products since 1993 and have received many awards for software excellence. Download Software for DJ, broadcast, stream, record, edit, convert, burn, mix, split, tag, rip and play audio files for wav, mp3, and other popular file formats. Broadcast video, record webcam, edit video, convert video, burn dvds, download youtube internet videos, and secure your home with surveillance software. Set up voip, softphone, ip phone, voicemail, a PBx system, call recorder, call attendant, multichannel voice recorder, for home or office.