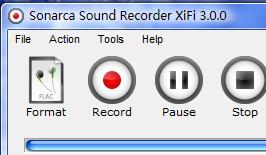 Click to enlarge
Description:
This sound recorder can record various sound input to dozens of audio formats and hundreds of codecs/subformats.
As a MP3 Recorder, it is capable of saving the recording as the popular MP3 format.
Supports WAV, MP3, WMA, OGG, APE, FLAC, MP2, VQF, AIFF, AIFC, AIF, 3GP, AAC, M4A, M4B, MP4, MPC, MP+, MPP, WV, AU, SND, RAW, GSM, VOX, PCM, ADPCM, G721, G723, FAP, PAF, SVX, 8SVX, IFF, NIST, IRCAM, SF, VOC, W64, MAT, MAT4, MAT5, PVF, XI, HTK, CAF, SDS, AVR, WAVEX, SD2, WVE, RF64 and user-customized formats etc.
Supports multiple sound input, audio/video files playback, CD player, line in, microphone, internet radio, even the obsolete tape/VHS cassette or anything else.
The exclusive customized recording mode allows the users to record sound to customized formats thru their own encoders.
Studio quality sound recording, supports ultra high sampling frequency up to 1920000 Hz and 24bit/32bit high bit resolution.
Build-in 64 bit Digital Signal Processing engine, apply frequency filtering/amplitude gain/speed adjustment/earphone enhancement/vocal removal DSP effects to audio data.
Supports global hotkeys, start recording anywhere.
Mixer Device/Input Line/Volume/Balance control.
Advanced "Silence Detection" feature enables automatically pausing/resuming sound recording according to sound volume.
This sound recorder uses the latest Lame MP3 encoder which is generally believed as the the best MP3 encoder.
This Sound Recording freeware supports on-the-fly ripping, in other words, it does not generate temporary files during the ripping process.
Fully visualize the recording process and realtime display the spectrum of audio data.
Intuitive recorded file management.
Build-in audio metadata editor, supports ID3v1/ID3v2/APEv1/APEv2/Vorbis Comment/MPEG4/WMA/WAV/AIFF audio metadata.
Supports auto-splitting recording mode.
Handsfree mp3 recording when the scheduler enabled.
This Sound Recorder is Windows Vista compatible and works with Windows 7 (64-bit and 32-bit).