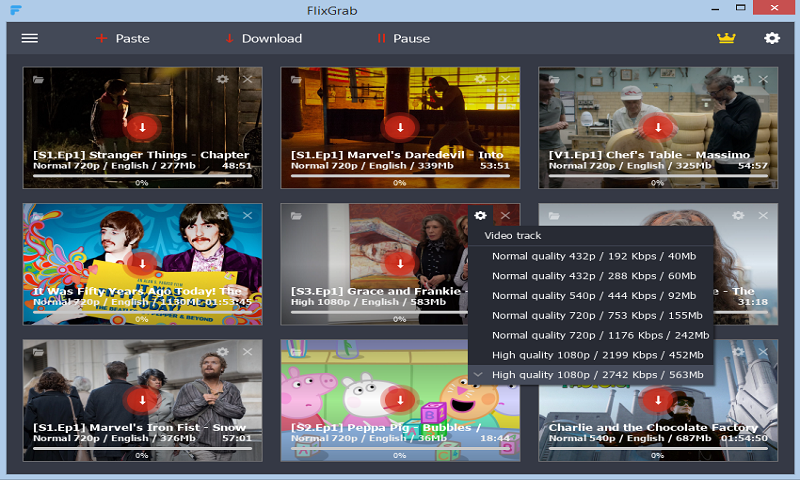 Click to enlarge
Description:
FreeGrabApp Team proudly presents FlixGrab Application! FlixGrab, unique and powerful application for downloading entire NetFlix serials, TV shows, documentaries, movies, music using the fastest multistream FreeGrabApp application engine.With our magnificent application, you can download and watch any NetFlix video offline on any device without spending internet traffic, and without disrupting NETFLIX limitations!
The top key features of this attractive application are:
*Totally new, user-friendly futuristic interface! Try it, everybody likes it!
*Support Downloading any HD NetFlix video! FlixGrab allows you to choose the original quality video from Standard Definition (SD - 480p), High Definition (HD - 1080p or 720p) up to Ultra High Definition (UHD - 4K)!
*Support Downloading Dolby Digital Surround Audio 5.1!
*Support Fast Multi-Stream Downloading! FlixGrab is able to download multiple videos at the same time!
*Automatic selection of the optimal voice quality and language!
*Loading lists from a File!
*Managing the download priority! You can easily stop and resume the downloading process, choose video's original language and much more!
*Easy to use! Just copy any Netflix video URL, use 'Paste' feature, click the 'Download' button, wait for a little and enjoy it!
FreeGrabApp company highly respects the copyright terms, but at the same time, we consider unacceptable any limitations by copying already purchased or free video content for personal use, which is established by Netflix and other video services. Therefore, using our programs is totally legal only for personal needs and without rights of sharing the material to third parties.