[
Homepage
] - by:
LeadMind Development
-
Download links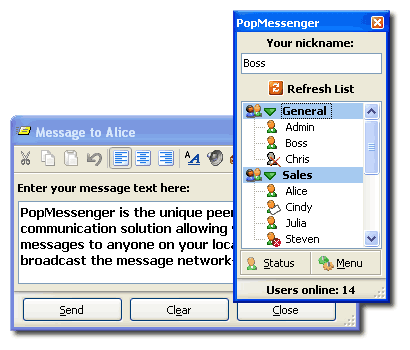 Click to enlarge
Description:
We enjoy speed and reliability of computing as opposed to rather slow and erroneous human beings. However there are certain tasks that are subject to creative relational thinking possible only in human beings. Modern businesses rely heavily on human communication as well as on proper automation of processes. Once we have our offices set up the next thing we need to care for is personnel communication. There are contexts where casual phone conversation or e-mail would be perfect. But sometimes we require other means of communication. Dialing on the phone or sending an e-mail just to say one phrase to someone sitting in the next room seems to be a complete waste of time. And what about saying the same phrase to all of your staff? Would you make 20 phone calls? Or send 20 e-mails?
Presenting PopMessenger by LeadMind, the unique peer-to-peer communication solution allowing you to send messages to anyone on your local network or broadcast the message network-wide! PopMessenger is a convenient instant messenger designed for SO/HO and enterprise networks intended for sending textual messages from one machine to another. Unlike the majority of existent instant messaging solutions PopMessenger does not require a dedicated server or Internet connection to operate. The application allows fast and straightforward communication over enterprise network with help of customizable user interface that only requires a couple of minutes to familiarize with. Text can be presented in a variety of fonts and colors. Messages are delivered to the desired recipients immediately even if they are offline.
PopMessenger is a distinctively well-thought program featuring messages history, user status, file transfer, users groups, automatic answers and configurable sound alerts! Taking into account ease of use which means no additional costs for product training and flexible pricing options PopMessenger is the most fitting instant messaging solution for both small and medium enterprises!
Recent changes in this New Release:
File transfer, Users groups, Real-time message encryption
Comments
(
Add comment
)
<!Comments>
Good easy to use software!
<!> <!Comments>