[
Homepage
] - by:
Abacre Corporation
-
Download links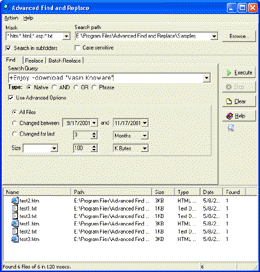 Click to enlarge
Description:
Advanced Find and Replace is exactly what the name implies. It's fast,
easy to use, and a great time-saver for programmers and Webmasters in
particular. This powerful utility lets you perform text searches on your
local computer as if you were using an Internet search engine. It features
support for operators that allow you to specify phrases, words to insist on
(+), and words to ignore (-). You can easily apply filespec, date, and size
filters to speed up the search. The program also allows you to replace
simple or multiline strings. Specify your search-and-replace strings, then
choose the action you'd like to take: delete the search string, insert text
before or after it, or simply replace it. You can even apply multiple
changes to large groups of files in a single operation and use optional
confirmation if you need to be more selective. Excellent documentation is
included.
Recent changes in this Major Update:
* Feature: Search in PDF files (Adobe Acrobat should be installed). * Feature: Support of multi-language user interface. * Feature: "What you see"(tm) (WUC) HTML Search. * Feature: new replace actions: Cyclic Replace From File, Insert in Top and Insert in Bottom of file. * Feature: Possibility to specify Folders to Ignore. See main menu - Action - Options - Folders to Ignore tab. * Feature: Pause button. * Feature: New command line parameters: searchfor and replacewith * Feature: Search in hidden folders. * Feature: Just find option for Batch replace. * Feature: Add to Batch button. * Feature: Possibility to replace multiple lines in Batch * Feature: Don't show it again box for read-only files * Feature: New filter: file name length * Feature: New period for date filter: Minutes * Feature: Possibility to use advanced options filters for replace and batch replace operations (see Options window). * Feature: "Ignore from import lines" option commenting out some lines in batch import file. * Feature: Find In File Names option. * Bug fixed: Replace operation added CRLF chars after loading of config. * Bug fixed: Keep original file date was ON by default. * Bug fixed: Just Find option changed document date in MS Office files. * Bug fixed: Page Layout was not saved correctly for MS Office files. * Bug fixed: Corrected Bug with \\ escaping in regular expressions.
Comments
(
Add comment
)
<!Comments><!Comments>