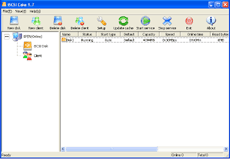 Click to enlarge
Description:
iSCSI Cake, iscsicake.com, is a Windows iSCSI target which shares server's disk, partition, VMDK file, and ISO file with iSCSI initiators/clients. As a standard iSCSI target, iSCSI Cake is compatible with iSCSI initiators on Windows, Linux, and Solaris. iSCSI Cake consolidates storage resources for enterprise virtualization with fully support of VMware ESX server and Windows 2008 failover cluster. iSCSI Cake service is able to be installed on Windows 2008 Server Core and managed from remote consol to turn the server into a secure, high performance iSCSI server. Native 64-bit executable files boost the performance of iSCSI Cake on x64 machines and overcome the 2GB RAM obstacle.
Key Features:
1. iSCSI Compatibility: Supports iSCSI initiators on Windows, Linux, and Solaris.
2. OS Compatibility: Supports all 32bit/64bit Windows 2000/XP/2003/VISTA and later operating systems.
3. 64bit Addressing: Breaks through the 2TB limitation.
4. Cluster Sharing: Shares storage among cluster nodes.
5. VMWare Compatibility: Exports VMWare VMDK disk file as target disk.
6. ISO Support: Simulates virtual CDROM drive.
7. Port Forwarding: Provides service while under the protection of firewall.
8. High IO performance: Server cache with per-client cache together delivers high IO efficiency.
9. Easy to Manage: Windows based GUI can be installed on any computers to manage iSCSI server.
10. COW protection: Protects server data from unauthorized client.