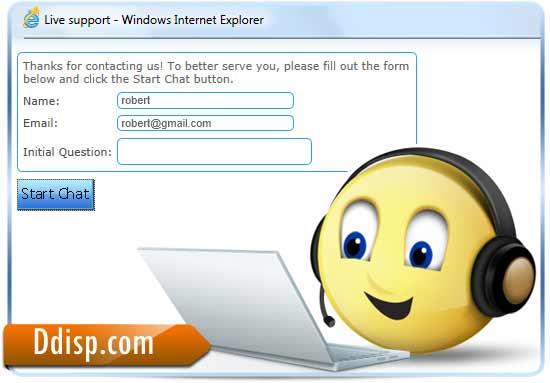 Click to enlarge
Description:
Chat Support application is premeditated to proffer unfailing self-service real time support that helps to reduce communication gap between Company and Customers. Chat Support program has various powerful features and functionalities and provides best options to get easily connected with clients. Chat Support tool helps company managers to follow business performance and lets them get opinion of its products and services. Economical Chat Support program can easily download from the website ddisp.com at reasonable prices. Chat Support tool offers supreme customer support to your online consumers that enlarge sales and reduces your phone bills. Chat Support utility helps to engage clients through online interaction by given that valuable information about your offers in very less time. Chat Support application is used as a standard contact channel for helping customers via the internet. Chat Support tool is useful in industries including web hosting, financial, web design, real estate, education, insurance, universities, e-commerce, travel, auto, sales law firms etc to improve customers' trust and satisfaction that increase your sales and revenues. Chat Support program is complete web based clarification with dominant features offers advanced customer support to decide any query of website visitors in easiest way. Chat Support tool allocate multi chat interaction between multi operator and multi user for solving the queries in real time.
Features:
*Chat support tool facilitates to chat between the operators with ability to shift chat from one department to another.
*Chat support program offers entire chat facts along with date and time of each chat session.
*Chat support application entirely competent to install and run the web chat application without requiring any extra hardware and software.
*Chat support tool easily view what visitor is typing for the duration of website operator and visitor chat communication.