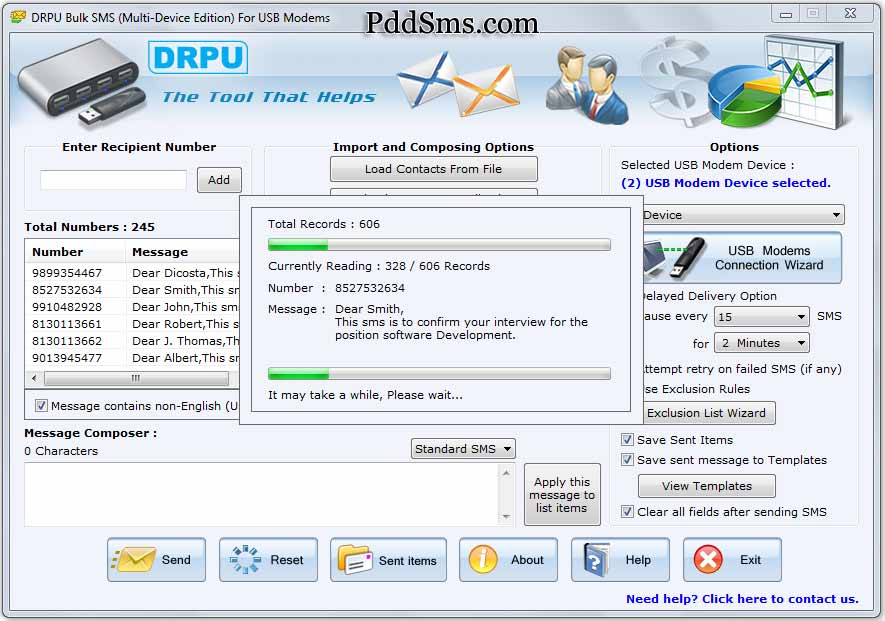 Click to enlarge
Description:
Dexterous send SMS modem software maintains Unicode language to transmit complex text SMS or messages to each GSM based cellular phone in every text format. Pioneering SMS transmitting application supports enhanced method which is expert to broadcast messages or information to chosen phone numbers of your business clients even either you are in company or out of city using with your laptop. Consistent SMS sending program is totally skilled to send multiple SMS or information simply and moreover company proffers unusual aspect of wizard list option to uphold the record of contact name, numbers and group information. Resourceful send SMS modem application proposes free trial download version of application to aware the features of the program earlier than purchasing the full version of the software. Highly efficient SMS sending tool is primarily designed to convey information associated to your business, SMS or messages to connect with your business clients and employees etc by personal laptop to connect cell phones in best and matchless process. Send SMS modem utility is secure and profitable tool skilled to broadcast text data using your laptop or PC to copious cellular phones without internet gateway.
Features:
* Innovative send SMS modem utility upholds pleasing graphical user interface thus co-operative for novice users to work through tool without any aid through expert.
* Convenient SMS sending program has no demand to install any additional hardware or software for conveying bulk text messages.
* Realistic send SMS modem software exploits some standard or advanced algorithms to send SMS/messages and important information at varied cell phones.
* Pioneering SMS conveying application provides unmatched aptitude to send delivery reports of total sent text messages/SMS to the sender.