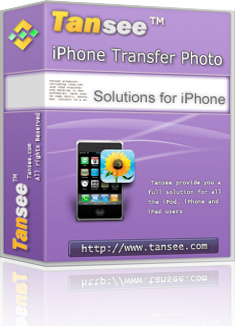 Click to enlarge
Description:
When use Tansee iPhone Transfer Photo copy iPhone photos out?
- Backup or copy photos in iPhone to PC.
- Copy iPhone photos to new computer or notebook.
- Computer crashed.
- Share your iPhone photos with friends.
- Copy all photos to a new iPhone.
Tansee iPhone Transfer Photo is an easy to use backup software that lets you copy photos from your iPhone to a Windows based PC with the least effort. Apple had integrated all your photos into an ithmb file which user can not access the content directly, Tansee iPhone Transfer Photo utilizes iPhone's internal database to display and transfer your iPhone's photos instantly. With Tansee iPhone Transfer Photo, iPhone users can transfer iPhone photos to PC easily. Tansee iPhone Transfer Photo had many special settings for your personal iPhone photo backup, you can customize browser style, backup file format (.BMP or .JPEG)... . We had also realized iPhone auto detection feature, whenever you plug your iPhone to the computer, Tansee iPhone Transfer Photo could display all the iPhone photos instantly. From now on, you can backup all your iPhone photos to any computer. Try it, you will find more!
With secure Tansee online store, you can finish your order safely.
Tansee products can run on almost all the windows operating systems: Windows 98, Windows 2000, Windows XP, Windows 2003,Windows Vista .
Tansee has established two support teams for building a fast response to customs. Just email to support Team 1 or support Team 2, we will answer your e-mail within 24 hours all year round!
Upgrade Free! Tansee's product will upgrade with iPhone synchronizing, prepare for the next generation iPhone! One time fee, you can copy photos in next generation iPhone.
Try and get the full version now for just $19.95!
Due to iPhone isn't released officially, our products named "*** iPhone ***" are all debug versions, so, any questions about Tansee iPhone Transfer or Tansee iPhone Transfer Photo, please contact